And somehow another month has gone by! A lot happened this past month so it will be hard to fit into one post, but I will do my best!
First of all, we want to let everyone know that Cassandra is finally feeling better, thanks be to God! It turns out she somehow ingested a parasite which created chaos in her stomach and left her with dysentery. It was as bad as it sounds! Illness is unfortunately very common when living in a foreign country. But we are both very happy and thankful that she has returned to health and we want to thank everyone who kept her in your prayers.
On a brighter note, Cassandra's parents and sister came to visit after she got better and we had a wonderful time with them. They got to see us do our work here in Gualan and we also took them to see the Mayan ruins in Tikal. It was great to spend time with some people that we missed very much, especially for Cassandra. They seemed to be happy to see their daughter too and the ruins were absolutely stunning.
One of the many pyramids that the ancient Mayans constructed over a thousand years ago.
Cassandra's work is in full swing now and she has begun private lessons with the trumpets as well as practice with the choir. The hope is for the choir to be ready to perform a concert of a few Christian songs but so far they have only learned one song. There are over 50 kids in the choir so it has been very difficult to keep them all focused on the task at hand. I accompany her to try and reign them all in but even with the two of us we are grossly outnumbered! It looks like the group may have to be split up for more progress to be made and we are working with Pastor Luis to figure out the best way to teach them. Please pray for our patience and guidance in working with the choir.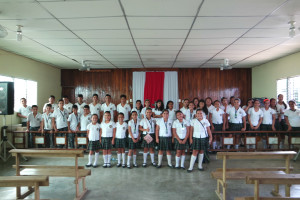 The choir on our first day of practice
As far as my work, I am continuing to work with the catechism classes and bible studies in addition to helping Pastor Luis with various projects around the church. Until recently, my ability to work was being hindered by the consistently unreliable car we purchased 2 months ago. After over a month of spending every Monday and Tuesday in the mechanic shop, we decided that it would be best to look for a safer, more reliable option. Here it is very important to have a dependable car for long trips because if a car breaks down on the road, it instantly becomes a target for thieves and people who wish to do harm. But what bothered me most was having to cancel events in La Union because my car was in the shop. Not only was the car making us feel unsafe, it was beginning to hinder our ministry as well.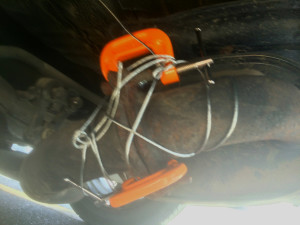 The muffler disconnected during a long drive and this was my quick "fix"
The Lord provided, as he always does and I was actually able trade in our car for a newer model with less mileage and less problems! It has already proved to be more reliable than the last one and my ministry in La Union can continue on a much more consistent basis. Another blessing of God's provision occurred in La Union when we found a meeting place for the youth group. Until recently we had been meeting in a public school classroom but many bible studies were cancelled due to it being unavailable. After searching for over a month, one of the youths came forward and said that his mother would be willing to let us use a large empty room of a building she owned. She also allows us to use it free of charge. The Lord provides for us in better ways than we can even ask!
As far as new projects for the church, I have begun collecting contact information and taking pictures of the members in order to create a church directory which will hopefully improve the communication within the Christian community in Gualan. I am also working on finding a design for new church pews to replace to very old ones that church currently has.
These happy faces will be smiling the the church's new directory!
Cassandra has begun preparing healthy snacks to bring to the bible studies in the rural community of Los Limones. A lot of the children are unable to receive the proper nutrition they need so our hope is that this healthy snack will help in some small way. This is the community where a church in the United States has expressed interest in helping create an agricultural program that provides jobs and food for the families of the church. I just finished collecting video footage of the ministry there and I hope to finish editing the video this week so the church in the US can get to know their Christian brothers and sisters in Los Limones.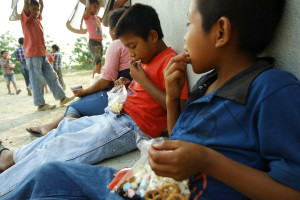 The children in Los Limones enjoying their trail mix snack after bible study.
Thank you to everyone who is supporting us during this journey. We thank God for all the ways he has provided for us and also for all of the challenges he has put in our path. Please pray for our continued perseverance amidst challenges and for guidance in how to best be of service to God's children here in Gualan, Los Limones, and La Union.