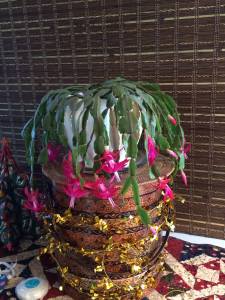 Today I posted a photo of a gorgeous blooming of a Christmas cactus that not so many years ago was just a single twig of sorts rescued from a huge dying plant that had been nurtured by George's parents for more years than I can remember now. Each year just before the blossoms would come out Dad would carefully bring it from the upstairs back bedroom where it had been sitting to a strategic place in the living room to enjoy over the holidays when its heart would show forth beautiful blooms in all its beauty. After dad went to his eternal home, one of the guys would continue to do it for mom for years thereafter. Then mom joined dad one day and the cactus sat where it had last been put.
Somehow it survived until we returned from Indonesia and it was found still sitting in the same place it had been each and every year when not in season. This time though, only one branch showed a remote sign of life that clung on. I would like to think it was meant for us to have to carry on to a new home.
Fast forwarding to today, some 4 1/2 years later and this is what has become of that single branch. It has multiplied many times over in just this short span of time. Amazing isn't it?
George and I would like to dream that this is how God's ministry in Cambodia will also grow. Somewhere in many little villages and settlements in the countryside right now are nestled Godly men and women, perhaps in many areas only one or two, who have become the barefoot Christians in their area, going house by house, person by person, sharing the love of their God the Father and the salvation of Jesus Christ and eternal life granted to each whom come to that knowledge and accept that gift. They are that single branch sent forth into their world.
As I close my eyes, I see that branch standing strong in the faith and knowledge of their Father, passionate to reach out and brilliantly shine, and grow the church (people) into an even better, stronger, beautiful example of how God's family can grow given the opportunity of discipling by those who already know.
We are commanded to go forth and make disciples of all people and nations. It says that in the bible. Each one of us are a branch, strong and brilliantly shining into the world, just like this cactus is doing at the moment. In a while the plant will shed its blossoms for sure, but the plant will grow and grow and grow and in another year it will be bigger, stronger, and even more beautiful.
Remember this whole plant began as one branch. Each one of us is a single branch as well standing strong for our Father. We have possibilities, just like this plant. Let's all grow and shine for Him, just as this plant is doing now.
Isaiah 60:21-22 "Your people shall all be righteous; they shall possess the land forever, the branch of my planting, the work of my hands, that I might be glorified. The least one shall become a clan, and the smallest one a mighty nation' I am the LORD; in its time I will hasten it.