Hi there! We want you to meet Daniel, our co-worker in Siem Reap. When we asked Daniel where he learned English, he replied that it was in Bible College in Singapore. He was a classmate of Pastor Vannarith's and has been recruited to establish a Garuna Christian School campus in the Siem Reap area in 2016. He has a wonderful singing voice.
Daniel has also been our driver on a recent trip to Kampong Spueu. When suddenly there was laughter coming from the front seat, Pastor Vannarith gave us the following dialog about what Daniel had done.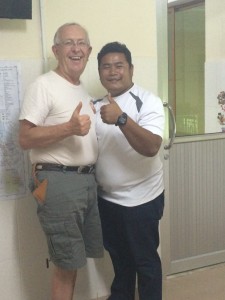 Vannarith: Daniel, why did you run through the red light?
Daniel: Because I thought the police might be hungry and I wanted to buy them breakfast.
Later in the day, as we were headed back to Phnom Penh, we were stopped by the police just outside the town of Kampong Spueu. Daniel left the car and walked over to the desk on the side of the road where three police sat. Pastor informed us that Daniel was slightly over the speed limit in town and had to pay a fine. He calmly walked over to the canopied table with three policemen.
With a smile on his face, Daniel stated, "Well, they did not accept my invitation for breakfast, but wanted lunch instead". Love that sense of humor!
Oh, the fine was R10000 or about $2.50.
Daniel will be moving up to Siem Reap at the end of the month and will begin his church planting duties. Please pray for him to perfect his driving because we do not want to drive in this country.