One of the most encouraging texts in the Bible is Philippians 4:6-7 which let us know to take our requests to God. This is why we start projects including our time in Cambodia with prayers. While there, other needs come across our table and we start those projects also with prayer. This was the case for a need from three church workers to provide transportation to reach out into some of the more remote villages. We know all three of these workers, but especially Pastor Samuels and Visech. So, we started praying.
Our intention was to raise funding for three motorbikes as a project. But as we prayed, we also let the need be known to others that there was a need. But, we forgot about Matthew 18:20 and how God is present at all times. But He was, and acted just like it says in Isaiah 65:24. We weren't even done praying when a co-worker contacted us saying that a single supporter wanted to purchase all three motorbikes for the field workers. Bright, shiny new motorbikes to carry the Word of God into remote villages where anything with more than two wheels cannot go.
The accompanying picture shows the three recipients as they receive their keys in a short ceremony to recognize their service.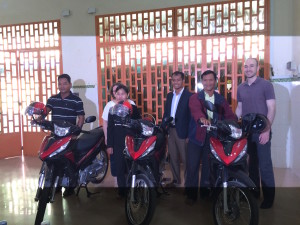 Were we surprised? Yes and no! We were surprised that God answered the prayer with the speed and in the manner He chose, providing the finished answer instead of help with a fund raising project like we were actually praying. This gave us an answer in days and weeks instead of the months we expected. But we were not surprised that God answered the prayer. This has happened before when we needed a generator because the power during the dry season failed almost daily. A single supporter stepped forward at that time and merely asked where to send his check for the entire amount. Nothing is to difficult for God (Jeremiah 32:27)
Guess we ought to study our bible more before we pray :-).