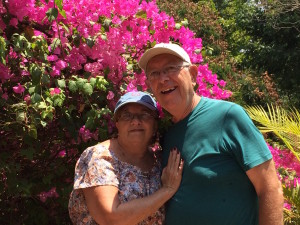 This month marks the 45th years of life together with this man. If someone had showed me a list of line items for this life that day at the altar, I'm so sure I would have headed for the hills and never returned. But here we are today, having walked thru life together, learning and being equipped as we go hand in hand in His service. Gratefully this has been shown in bits and moments at a time, with a huge learning curve, and blessing upon blessing time and time again. Honestly, when you don't think it could be better, then something comes along to raise the bar. God is always there at the helm.
So, taking a break from our insanely complex schedule of the moment, we purchased evening boat cruise tickets to go out on Lake Michigan just like tourists who visit Chicago do, riding the train in and out, walking the streets, the whole bit. We had hoped it would be a bit romantic. It was a lovely evening, a perfect time to see the beauty of this city from a different perspective. We are not city people by any means, but once in a while the vagabond spirit takes ahold of us and drags us down the road to stretch our necks.
Of course, we wanted to add in an ethnic meal of some sort, but which to pick was another subject.
We had so missed one of our favorites, Pho, (pronounced Fa) which hailed from the Vietnamese community. We had a favorite restaurant we frequented in PP by the name of Viva. This family owners were also Christian and shared their lives all around their staff and clients. Their Pho was usually really great, especially when the 'boss' did the cooking.
We found this one spot on West Van Buren and while it was just a 'hole in the wall' sort of place, it served up a wonderfully delicious Pho salad and a cup of vietnamese ice coffee. Let me add that this muddy coffee shown here will kick butt,big time. The lovely gal at the counter said "you know that this is strong, right?" YES!
So included in this blurb are a few photos of our 'walk' and 'boat' time along the streets and waters of this gorgeous city.
Happy Anniversary my dear! I'm looking forward to many more years of praying and holding hands with you ~