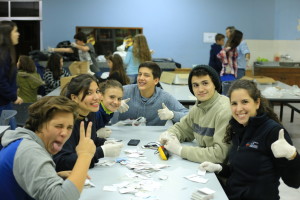 What a month so far. September has been a lot of traveling from here and there with this last weekend of the month staying closer to home in Orlando. This stretch was a lot of visiting congregations that I have called home at some point in time with last week going back to where I spent my childhood in Delray Beach. It was good to see some old familiar faces and meet new ones. This next month will be visiting a lot of churches that I have been blessed to connect with through friends and family. For the next couple of weeks I get to stay closer to home, while the second week of October I will be travelling once again to another church in South Florida. It has been amazing seeing all the support there is for the mission. It would not be possible without it. Many people have so far given their gifts and hearts to this mission and are making it all possible. I am truly thankful for all of it. For those who have signed up for the newsletter, supported through financial donations, or keeping the mission in their prayers I look forward to sharing all that God is at work in down in Montevideo. For what has been given so far I am on the verge of reaching deployment level to depart for Guatemala to become fluent in Spanish. The plan is for me to depart for language school in early November and begin in Uruguay in February.  While I am very excited for this chance to serve God I am more excited to see all the wonderful people from San Pablo Lutheran Church again. Seeing them again and working with them to share God's Gospel has been the biggest motivation for me the last few months.
I wanted to share my upcoming travel plans for fundraising. I've added a few more since the last update
September 25-Ascension Lutheran Church-Casselberry, FL
October 2- Trinity Lutheran Church- Orlando, FL
October 9-SonLife Lutheran Church-Boynton Beach, FL
I am also working to get one more visit scheduled before I leave. The remaining weeks I am seeing family and friends one last time before departing for language school. I ask that safe travels for me be in your prayers.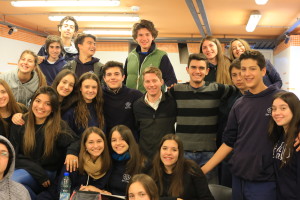 I want to leave you with a passage that has been encouraging me throughout the last couple of months of the support visits. "Therefore I tell you, do not worry about your life, what you will eat or drink; or about your body, what you will wear. Is not life more than food, and the body more than clothes? Look at the birds of the air; they do not sow or reap or store away in barns, and yet your heavenly Father feeds them. Are you not much more valuable than they? Can any one of you by worrying add a single hour to your life?"And why do you worry about clothes? See how the flowers of the field grow. They do not labor or spin. Yet I tell you that not even Solomon in all his splendor was dressed like one of these. If that is how God clothes the grass of the field, which is here today and tomorrow is thrown into the fire, will he not much more clothe you—you of little faith? So do not worry, saying, 'What shall we eat?' or 'What shall we drink?' or 'What shall we wear?' For the pagans run after all these things, and your heavenly Father knows that you need them. But seek first his kingdom and his righteousness, and all these things will be given to you as well. Therefore do not worry about tomorrow, for tomorrow will worry about itself. Each day has enough trouble of its own." Matthew 6:25-24