Eric and Linda Funke to continue ministries in Tanzania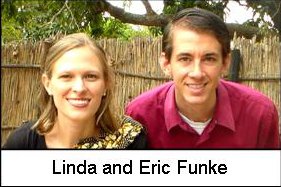 As the Funkes complete their initial 2 year commitment, they have announced that they have decided — after much prayer and consultations — to continue for several more years their work in Tanzania.  We rejoice in God's guidance and  are excited that they will be able keep on sharing their many gifts in ministry there!
Besides the many opportunities for continued ministries in the Lutheran school and development work, the decision also had something to do with family plans!  They reveal their decision in their LATEST NEWSLETTER (click here) . . .  or you can WATCH THEIR VIDEO (click here).