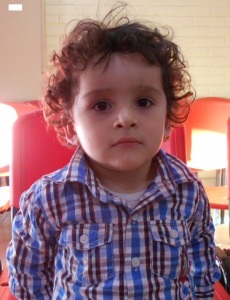 I have to share the story of Cristobal, a cute little curly-top Chilean boy in our mission church. For a 2 1/2 year old, he has a huge vocabulary and a crystal clear cartoon voice that is usually competing with my husband during the sermon!
But we love this kid to pieces, especially since as an infant he was diagnosed with a serious kidney disease. His parents are thankful to doctors who performed a tricky surgery removing the damaged kidney and making changes so he could survive with just one.
In December he went for his regular check-up to make sure the kidney is functioning well. After several tests, the doctor shared a surprising update with his mother. It appears that the kidney that had been removed has grown back – perfectly! The doctor couldn't explain how. He said, "This just doesn't happen".
Filled with excitement and gratitude, Cristobal's mother told the doctor she knew how it happened.  "We pray to an all powerful God. There is nothing impossible for Him. All glory and praise be to our Lord Jesus Christ!"
Watch for God's mercy and power all around you. He's making miracles happen daily. He comes to us in the miracle of a helpless Babe in the Christmas manger. He comes out of the tomb and announces victory over sin, death, and Satan. His body and blood miraculously come to us in the bread and wine for our forgiveness.
Join us in thanking God for Cristobal's miraculous healing!