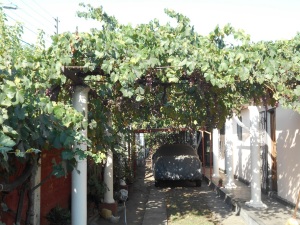 "I am the vine; you are the branches. If a man remains in me and I in him, he will bear much fruit, apart from Me you can do nothing." Jn 15:5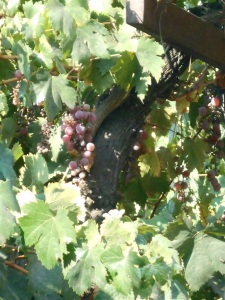 Maybe my fascination with Chilean grapes is rooted in my confirmation verse, John 15:5.  I've always loved the picture of a strong, woody vine rambling over an arbor, with clumps of purple goblets draping down.  And I've imagined how much fun it would be to tromp out the juicy sweetness of those little fruits with my bare feet (Lucille Ball-style, for those of you who've seen the episode!) in a huge wine-making vat.  I also must admit I have become quite enamored with the Chilean Carmeneré wine!
The story of Carmeneré is quite interesting. It seems the original Carmeneré vine from France fell subject to disease and imperfect growing conditions in Europe causing it to almost disappear. Cuttings from these vines were imported to Chile in the 19th century.   However, over the years the vine was not recognized as a unique, specialized grape, but was used to mix with merlot and other red wines.
In the last decade Carmeneré has been rediscovered. In Chile, and other parts of the world, it has been exalted and recognized as a stand-alone, exquisite crimson red wine. Efforts have been made to recuperate and appreciate its true nature.
As I look around Santiago and see the spiritual confusion of the people, I wonder if God's truth hasn't been diluted and lost.  Throughout  its history of injustice, dictatorships and revolution, Chile has become a country that has almost forgotten God.
God's Word says clearly that there is One Way.  Jesus, God's Son, is identified as the the Way, the Truth, and the Life.  We are here to point to the One who shed His crimson blood to set us free from disillusion and deception of a life of sin.  Chileans need to hear the Good News of Christ and find true Hope for their lost lives.
The original Vine was planted long ago.  It's time to reconnect, cling, and bear fruit!