I have now been in Guatemala for a little over 2 weeks. I arrived on September 22nd and stayed in Guatemala city for a couple of days with my host family (Pastor Elry, his wife Liz, and their son Samuel). That Sunday I came to Quetzaltenango (Xela) to begin language school. I am staying with another host family here in Xela that was assigned to me through the school. I have my own room in the house and I am fed three meals a day.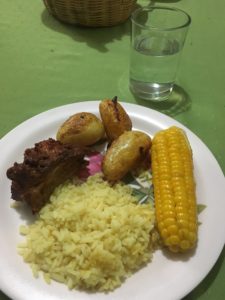 Typical meal here in Xela. I am becoming more spoiled by the day 🙂
Everyday I have classes from 8am-2pm with my private tutor, Nancy. Nancy has been teaching me grammar basics and helps me practice speaking Spanish. She has also been helping me learn more about the Guatemalan culture including religion, customs, and food. I have learned to make mole and fried plantains, visited San Francisco el Alto on market day, tasted the best taking chocolate (made from cacao trees here in Xela), visited the first church in Central America, and much more.
My weeks have been full of Spanish classes, delicious food, and many opportunities to explore. Everyday after class I return home for lunch, usually with a couple of relatives of my host family, and then I go exploring. My first week here there was another student from California who was also studying Spanish. She had been here for 5 weeks before I arrived so she showed me around Xela. One day we attended the International Tourism Day celebration that was happening in Central Park. There was music, food, and a cultural dance performed by some Guatemalan girls that told the history of the Mayans. We also attended a cooking class where we learned to make mole and fried plantains from a Guatemalan pro (a mom). Mole is a sauce made with peanuts, sesame seeds, chilies, and chocolate. It will definitely be something I will be eating in the future.
Last week I traveled back to Guatemala city (Guate) to attended the 500 years celebration. The celebration took place at Centro Cultural Miguel Angel Asturias in Guate and there were over 1000 people present. There were many different choirs, bands, and singers present that sang versions of "Castillo Fuerte" (A Mighty Fortress) and other famous music. Even the President of Guatemala, Jimmy Morales, was present and the President of the LCMS church, Matthew Harrison. It was a very beautiful celebration commemorating the 500 years of the Reformation.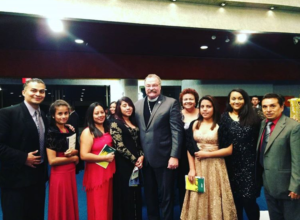 On Saturday, a team from Tennessee and Colombia came to Guatemala to work with Pastor Elry in Amatitlan (where I will be working after my time here in language school).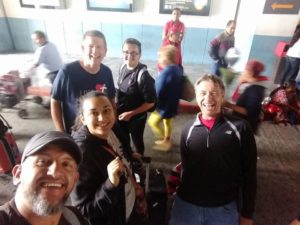 I got to experience a little of what I will be doing in Amatitlan and I loved it! I can't wait to share that with ya'll in November!