A lot has happened in the three weeks since we posted last. So much so that I couldn't find the time to make a blog post! We have spent the past weeks getting ourselves settled in Gualan and setting up our ministry here.
Our first two weeks were spent living with Pastor Luis, his wife, his mother, and three sons. Their hospitality was incredibly generous and they truly made us feel like we were a part of their family. During those two weeks we searched for a car and living accommodations. We found both, but the car turned out to be somewhat of a catastrophe when we realized the the gas tank had a large leak. The car was stuck in the shop for 2 weeks before it was finally driveable again! God has definitely been using situations like that to teach us patience. Thankfully our car is now up and running and we have made ourselves comfortable in a neighborhood about 5 minutes away from the Lutheran Church and School of Gualan.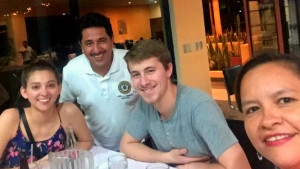 Our first meal with our Guatemalan mom and dad.
As far as our ministry positions are concerned, most of these past 3 weeks have been spent meeting with different leaders within the church and school community to plan out how we can best be of service to the various programs here. It's been very exciting to have a clearer picture of how we will be used to serve God! We were installed as missionaries at their Palm Sunday service. During the service the whole congregation came forward to welcome us with hugs, making us feel very much appreciated and welcome into their faith family.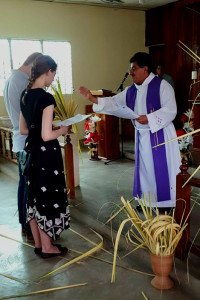 Cassandra met with the music director at the Lutheran school in Gualan and found out that he also teaches music at 2 other schools, leaving him with very limited time to dedicate to some aspects of the music department. The band, for instance, only meets to practice once a week, which is not enough time to truly improve. Cassandra will be overseeing extra practice sessions with each of the different instrument groups to help them reach the next level. She will also get a chance to help choose which students receive the instruments that some of our brothers and sisters in Christ donated. Those with a strong passion and potential for music will be receiving one of the thirteen generously donated instruments.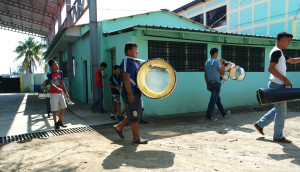 Percussion and brass getting ready for practice.
Cassandra has also been asked to start a school choir. Their goal in the future is to be able to have a choir and band ensemble to perform. In our second week she held auditions for children ages 9-16. She has selected a group of over 30 students who are ready to sing!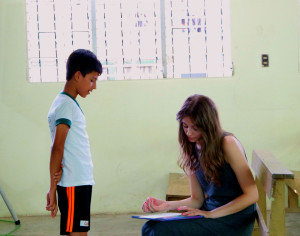 Some of the kids chose a song in English for their audition!
My primary objective here is to assist Pastor Luis with his pastoral duties and work with the youth in Gualan and two nearby villages. So far I am teaching the small catechism to youth and adults in village about 15 minutes away called Los Limones. I am also working with a youth group in La Union, a village about 30 minutes away. I am teaching them the small catechism and leading bible studies. As for my work in Gualan, I lead a bible study and teach the large catechism to a mixed group of adults and youth. I don't have any pictures of my youth yet but I look forward to putting some in the next post! I am very thankful for the opportunity to work with a diverse group of youth here and be a part of the church's growing community.
As always, thank you so much for your continued prayers and encouragement. We miss you and love all of our family and friends back home!